Okay, here's the thing. Sometimes a girl is stuck in the library without a

mirror

& she needs to do her makeup.. Also, sometimes her computer has a webcam. (for those of you who are still confused, a webcam can work JUST as well as a normal mirror!)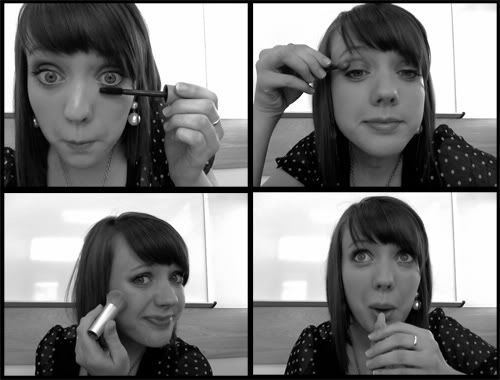 So, good idea, right? Until, as is shown in the last picture, a random little kid notices what you're doing & stops by the study room door to gawk at you. Who invited the five year old to the library, anyway?
xo. :)
Oh, P.S. !!!!!! Campus Police has my wallet! Thank goodness! As for right now, the phone is still lost.. But, I'm at least one step closer
and
I still have my identity intact. Phew!
Like this post? Tell me! Make my day. You know you want to.